EVERGREENS celebrates Streisandís 60th anniversary as a Columbia Records artist.† The album features 22 songs - 1 song from every studio album she has released.† The songs were hand selected by Barbra as some of her favorite songs throughout her career - many are deep tracks.† None of these tracks have appeared on previous Streisand compilation albums before.†
EVERGREENS celebrates Streisandís 60th anniversary as a Columbia Records artist.† The album features 22 songs - 1 song from every studio album she has released.† The songs were hand selected by Barbra as some of her favorite songs throughout her career - many are deep tracks.† None of these tracks have appeared on previous Streisand compilation albums before.†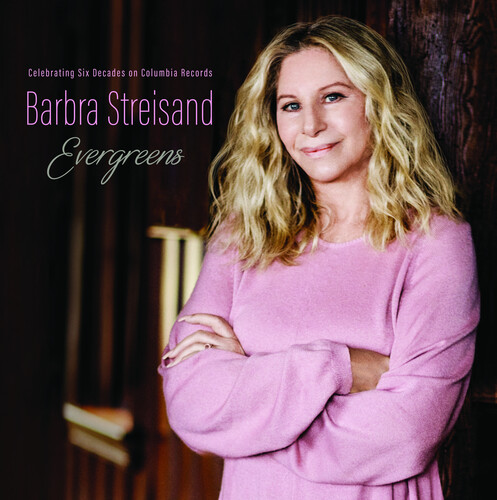 Details

Format: CD
Label: Legacy
Rel. Date: 10/27/2023
UPC:

196588200724
EVERGREENS: Celebrating Six Decades on Columbia Records
Artist:
Barbra Streisand
Format:
CD
New:
Available
$17.97
Wish
Formats and Editions
1. Iíll Tell The Man In The Street
2. Bewitched (Bothered And Bewildered)
3. Absent Minded Me
4. The Shadow Of Your Smile
5. Where Or When
6. Ma PremiŤre Chanson
7. I Donít Know Where I Stand
8. I Never Meant To Hurt You
9. Letters That Cross In The Mail
10. Answer Me
11. Tomorrow
12. Canít Help Loviní That Man
13. Two People
14. Some Enchanted Evening
15. I Believe (previously unreleased)
16. Isnít It A Pity?
17. Moon River
18. Hereís To Life (Orchestra version)
19. The Windmills Of Your Mind
20. Who Can I Turn To (When Nobody Needs Me) with Anthony Newley
21. Lady Liberty
22. Evergreen (Love Theme from A Star Is Born) (2023)
More Info:
EVERGREENS celebrates Streisandís 60th anniversary as a Columbia Records artist.† The album features 22 songs - 1 song from every studio album she has released.† The songs were hand selected by Barbra as some of her favorite songs throughout her career - many are deep tracks.† None of these tracks have appeared on previous Streisand compilation albums before.†
back to top